Forget the indoor swimming pool and tennis court. The new lavish amenity for the millionaire mansion is the extensive and sometimes mind-blowing home wine cellar. This must-have feature for the wine connoisseur can be one gorgeous but pricey barrel of fun. The modern-day cellar is temperature-controlled, equipped with LED lighting, its own wet bar, and space for hundreds of varieties. The most expensive mansion in the United States right now is listed for $220-million, and includes a "small" wine cellar (fitting just 3,000 bottles) and a second larger one with over 10,000 bottles. This connoisseur wine palace in Beverly Hills has its own vineyard and other amazing features like a Turkish spa, 50-seat cinema and a revolving dance floor that's not recommended while drinking.
Of course, you don't have to be a millionaire to have a fabulous wine collection. There are still plenty of affordable options for those who enjoy a nice glass of Chardonnay. There is the wine cooler that fits into the kitchen or the built-in refrigerated cabinet that can be customized for the home. Whatever your preference (or budget), check out these 10 over-the-top and fun wine cellars from around the web.

Photo via Pinterest
1. A bowing alley/wine cellar is the necessary household amenity.

Photo via Telegraph.co.uk
2. This London home includes a modern glass wine cellar.
Photo via Houzz
3. The modern wine cellar in the kitchen.
Photo via Houzz
4. A wine cellar that doubles as a piece of art.

Photo via Pinterest
5. The wine cellar garage.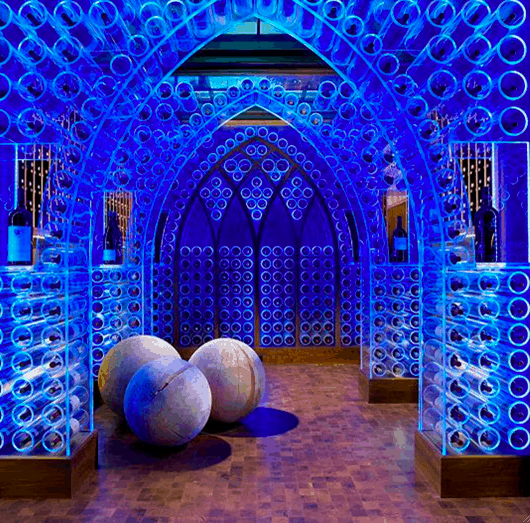 Photo via Kim Sargent, Beck Interiors
6. This wine cellar lights up with LED lighting and a glass ceiling overlooking the kitchen.

Photo via Pinterest
7. The wine castle.

Photo via Pinterest
8. Hidden wine cellar with a secret trap door. Guests, please watch your step.
9. Photo via Houzz
10. Photos via Pinterest