Unbowed by a pandemic, brokers Ralph Fox, Kori Marin and their hardworking team tap Toronto as a 'tremendous long-term investment opportunity'
A news image of masked soccer players entering an empty stadium in Italy was Ralph Fox's first indication that a global virus could threaten the Toronto real estate business that he and partner Kori Marin had built into a booming success.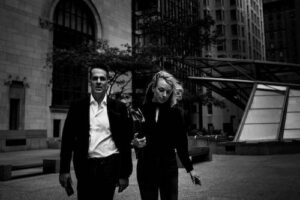 Like everyone, they began stockpiling supplies and preparing themselves for the unknown road ahead. 
However, sitting on the side lines with a wait-and-see attitude was not an option for long. 
Ralph and Kori decided to develop virtual seminars to update their clients on what lay ahead for the city's real estate market.
Those clients, who reflexively describe Fox and Marin as 'all in', would soon be among hundreds tuning in for their take on what to expect and how to navigate. 
That the weekly Zoom seminars became one of the city's go-to resources for people looking for a credible market perspective was a pleasant surprise. 
Fox and Marin are a compelling duo who seamlessly combine intelligence, strategic-thinking, care and a lot of humour in their work throughout Central and Downtown Toronto. 
Partnering since 2014, they've generated more than $250,000,000 in volume through the sale of residential and commercial properties as well as downtown condo developments. 
While a good work ethic may account for some of their success, it was their instinct early on about the crucial role that forward-thinking design, staging and digital marketing play in today's real estate markets that has helped grow their business exponentially. 
They also give huge props to their team of agents and administrative staff for their hustle, relentless drive and commitment to offering the best client experience, bar none.  
Their group is tight, they share the same values and goals – the synergy works.

SAGE Real Estate caught up with the couple recently on a road trip north of the city to check out one of their recently renovated investment properties.
Fox Marin Associates was early in understanding how a pandemic would shape Toronto's real estate market. How did you know?
Ralph: I had been following developments in China. When I saw news of elite soccer players in Italy masked and being bussed into an empty stadium, I knew that we had to take Covid-19 seriously and that, as business owners, we had to get ahead of what was to come. 
In March, nobody knew what would happen. Would there be liquidity in the banks? How would Purchase and Sale Agreements need to be updated? Would the market cease for a while? Was it safe to go outside? There were a lot of questions and we didn't want to leave our clients hanging.
Kori: When times get rough, we have a strong philosophical instinct to dig in deeper. We doubled down: we started online webinars every week, catering to our network and database. A lot of people who planned to buy, sell or rent wanted to know: 'How do I navigate?' 
We had never used Zoom or shared our screen, in the past. The first seminar, forty people joined. Admittedly, it was a bit stressful. But every week, we got better and more people participated. It started to feel like we had a little TV show. Then, 60-70 people, then, more. We became pseudo Zoom experts and learned a lot through the process.
We loved that our client base got to know us better and we could sense that we were building a lot of trust and rapport during a very tough period.
 
What was it like shifting your business to a virtual model?
Kori: Much of our business has been online for a while now.
We moved to SAGE in 2014 because, at the time, it was the only brokerage that seemed to understand what was happening in the industry. There was a feeling that a full-service agent needed to include digital storytelling, staging and social media. We shared an understanding with Evan and Brad about how the role of the realtor was starting to change.
When we started to take more of our business online, we put ourselves out there more than either of us wanted to. Ralph and I have different dispositions. I studied theatre at university and am 
very much an extrovert. Ralph is a visionary and solitary thinker. We amalgamate our two energies very well.
At first, we had wanted to be more private and white glove. But, quickly, we saw how much central transparency and trust are integral to the real estate business. People do their research up front. They want to know who you are and they want to be able to relate!
This year has turned out to be one of Fox Marin's best. How do you account for your success? 
Kori: We add value to the process. We fully believe that someone would be crazy not to hire us because we know the lengths that we go to for our clients. 
We don't sleep until something is resolved. We hustle for our people. We're all in, we don't do anything half. We're always trying to stretch beyond our comfort zone.
Where does that drive come from?
Kori: I left home at 11 to train as a classical ballerina. I think the discipline of the arts is a big part of where that need for perfection, competitiveness and discipline comes from. 
Ralph: My strongest influence was from my grandparents who moved to Canada prior to the Holocaust. I learned a lot from them and how rewarding they found their work. I believe everything has to be earned and am willing to pay my dues. You know, the idea that 'you can't pay somebody to do the push-ups for you' and 'the work works'. Kori and I both fundamentally believe this. 
What do you tell realtors who want to emulate your success?
Ralph: What can you do for other people? How can you serve their best interest and help them to succeed in the long term?
It's an industry that will encourage you to be creative, analytical, and an excellent problem solver.  
Kori: Know your story and the value you bring to the table and commit the time, and energy to put it out there.
Success in real estate means working below your pay grade. It's the antithesis of the easy route – it's rolling up your sleeves and getting the work done. We've cleaned people's toilets and windows, we've driven planters across the city in the middle of the night – the list goes on! 
No matter the time or day, if somebody wants to put in an offer, a key is missing, a lawyer is calling, we're on 24/7. It's this commitment and determination that will open the doorway to success.
How are you approaching Toronto's second lockdown?
Kori: We're looking at how we can use the time to keep pushing the boundaries and telling the stories we want to tell in a new and fresh way. There are 60,000+ realtors in the GTA and everyone has access to the same tools: Canva, IGTV and YouTube – you name it. 
We want to take a deeper dive to ensure we don't get lost in the sea of what everyone else is doing. This includes refreshing our website content, our social media strategy, our staging inventory and our back-end systems.  
The second lockdown means some punishing hours in front of the computer to get some of the behind-the-scenes work done.
Ralph: Living in Canada and in Toronto we have so much opportunity. At Fox Marin, we feel an obligation to maximize it. 
Real estate for both of us is an amazing business. It allows us to be very dynamic, work with different people at different socio-economic levels and with diverse energies.
There's no ceiling on what we can do. We still have so much to do. It's a huge motivating factor. It's this theme that is going to drive our business planning over the next few months while Toronto is working through different phases of the lockdown. 
What's next?
Ralph: We see three distinct markets in Toronto right now: rental, condo and low-rise.
During the pandemic, the rental market has been really, really hurt.
September and October saw a shift of oversupply in the condo market with many people transitioning into a home from a condo, literally.
Since the U.S. election ended, we have seen an increase in activity and a stabilization with condos. Prices are down, but confidence is coming back, bolstered by news of Covid-19 vaccines.
Low-rise has been robust in Central Toronto and outlying areas. We expect that to continue. 
For a long-term forecast, we see a big rebound. I've never been more bullish on long-term Toronto. I think, on a macro level, during a pandemic, people save and move out of cities. After, they move back into the city.
Risk-taking, spending and materialism and feelings of omnipotence followed one to one- and-a-half years after the Spanish Flu. We expect an atmosphere similar to the Roaring Twenties. Low interest rates plus huge quantitative easing will create a surge through the economy. Money will be cheap and high liquidity will be surging through the system.
Toronto is well-positioned with free healthcare, political stability and a huge amount of immigration with government projections of 450,000 immigrants per year into Canada over the next few years.
This is just the beginning. We believe, in the long term, Toronto is going to come out better than it was going into the pandemic.