Toronto has over 2,400 laneways hidden within the city's back streets. While some laneways are underused and graffitied, others are packed with secret back alley houses and architecturally designed two-storey lofts. How does one build a laneway house in the city? The quick answer is, it's not easy. By-laws require houses to have front and backyards, maintain a minimum distance between houses and conform to height restrictions, making it very difficult to gain approval to build. Additionally, the cost of providing sewage, electrical and gas to lanes that are unserviced make the case for building a laneway house quite challenging. Hopefully with initiatives like the Laneway Project, that seeks to improve underused laneways in the city, we will see more housing in future.
One of the best places to explore some great laneway projects is on Croft Street. Located in the South Annex neighbourhood, Croft features a variety of hidden homes like a row of modern townhouses built on the site of a former rug cleaning building and 54 Croft Street designed by Toronto-based Kohn Shnier Architects. The entrance to the laneway near College and Bathurst Street showcases a colourful mural of the history of Croft. The street was named after John Croft, an English immigrant and the only fatality of the Great Fire of Toronto in 1904. Around the corner in Kensington Market, you can find other hidden houses in non-descript laneways. The "Gradient House" by Superkül Architects is a modern home with cathedral ceilings near Kensington Avenue and the utterly cool back alley house at 5 Leonard Place features a unique curved roof made from corrugated metal.
In Bloordale Village, the Lanehouse on Bartlett Avenue is the first residential laneway development in Toronto. The new project built on the site of a former boiler-making factory, will house 13 loft-houses and flats and costing between $509,000 to $899,000. The project is expected to be completed in 2015. Want to see more hidden houses in the city? Thankfully, biking and walking laneway tours are available.
50 Bartlett Ave.
Gradient House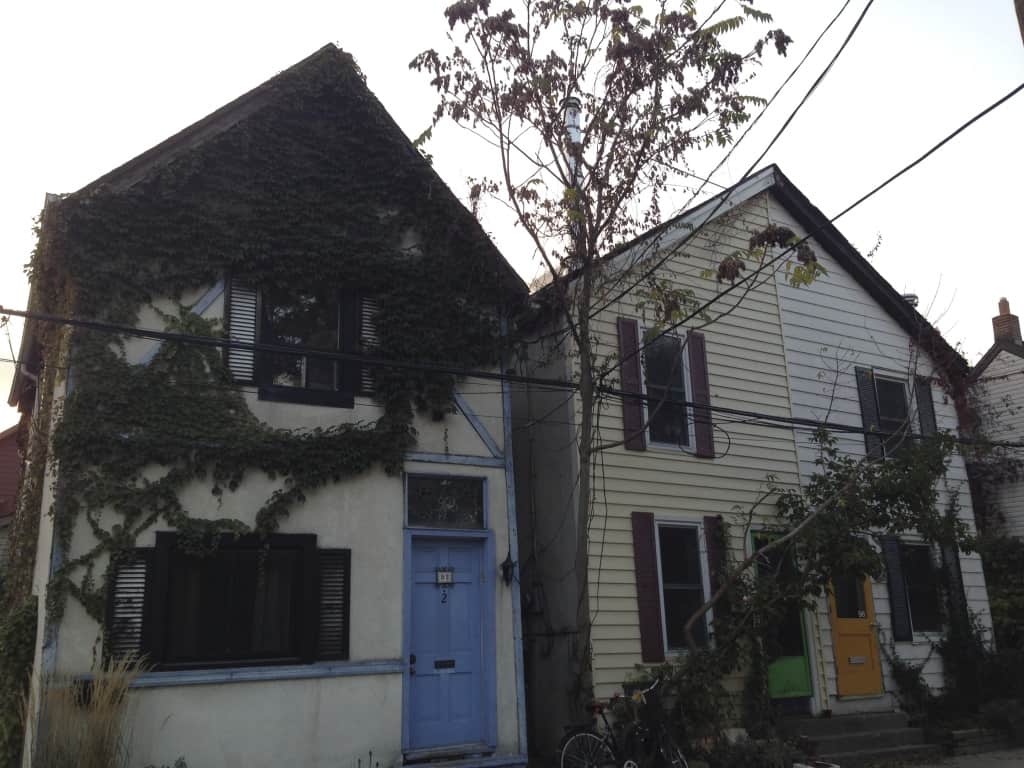 Houses on Croft