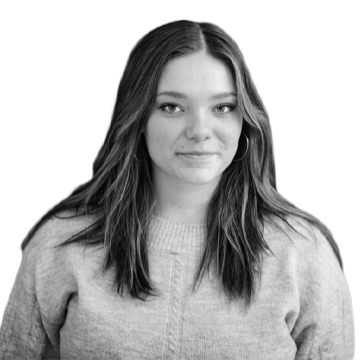 Abby McCulloch
Studio Coordinator
About
I love to create, and I will practice with and try using any artistic medium I can get my hands on. My passion in life is making documentaries and doing photography. I feel most like myself with a camera in my hands. I also love to do anything outdoors and was raised camping and sailing, both of which I try to do as much as I can. I also love music and taught myself to play the Ukulele so I am always strumming and usually have songs stuck in my head for days at a time.
When I'm not at work I spend as much time outside as possible. You might find me walking around the city and finding new places to explore, whether it be a food spot, a coffee shop, or the best views. I find walking in the city so interesting and know that inspiration will strike if I look in the right places. You might also find me roller skating at College Park in the evenings and on weekends. During the pandemic, I was going stir crazy as I am sure everyone understands so I decided to take up a new hobby. I chose to buy a pair of roller skates and I've been hooked ever since. It's a pastime I love for many different reasons, I find skating always challenges me both mentally and physically and I love feeling accomplished when I unlock new skills.
Abby does not have any active properties listed.
Abby does not have any sold properties listed.