SAGE HELPS AGENTS GROW THEIR BUSINESS
Our agents are our clients. We work side-by-side with our agents to figure out what they need to grow their business then inject the necessary tactics, tools and resources to help them take their business to the next level.
MANAGERS WHO CARE
Our management team knows what they are doing (50+ years of experience) and genuinely care about our agents. When your manager is also the owner of the brokerage you get a different level of commitment.
SAGE DESIGN STUDIO
Great design matters. SAGE's Design Studio work tirelessly to help SAGE agents, the brokerage, and our listings stand above the rest.
INTERNATIONAL EXPOSURE
Sage has developed an integrated marketing campaign that gets local, national, & international exposure for their listings.
BUSINESS TOOLS, SYSTEMS & TRAINING
We invest in tools, systems and training to help our agents grow their business by becoming more effective and efficient.
SELECTIVE HIRING
We do not believe in hiring just anyone with a RECO license and pulse. For agents to thrive they need to be in a supportive environment surrounded by like-minded individual. We believe in building and fostering such an environment.
SAGE BUSINESS SYSTEMS
Building and documenting the systems that run your business is the first step agents should take to create leverage in their business. This approach lets you rely less upon your memory and more on your systems so that you can deliver a consistent customer experience for all clients. SAGE crafted a set of systems that every agent should have for their business and we encourage our agents to then customize them to reflect the unique customer experience(s) that they deliver.
SAGE PRINT STUDIO
Great design deserves to be produced with an equal amount of care. For years we were using outside print shops with often inconsistent results. We decided enough was enough so when the space next to our Design Studio became available we snapped it up and invested in all the the equipment to allow us to have a professional grade print shop for our exclusive use.
LISTING MARKETING
SAGE's in-house team of professional Designers and Marketers accept the responsibility of developing and executing a comprehensive campaign custom-built for each one of our listings ensuring our seller's homes are positioned in the most favourable light and receive maximum exposure in the marketplace locally, nationally, and internationally.
LISTING PRESENTATION MATERIALS
SAGE has crafted a listing presentation framework that consists of two main marketing pieces. A physical perfect bound book that speaks in general about who the agent is and what SAGE would do to market their home to the greatest number of qualified buyers. And the second is a personalized website that our team builds for each listing presentation.
Guides for Agents
We understand all too well how difficult it can be being an agent in Toronto. Provided below are some guides that we have developed to help agents move their business forward in an array of different areas. These reports contain invaluable content that has taken our team years to assimilate and weeks to develop into such concise reports. These are living documents that we are constantly changing and updating so that we can make them better, and we would appreciate your feedback.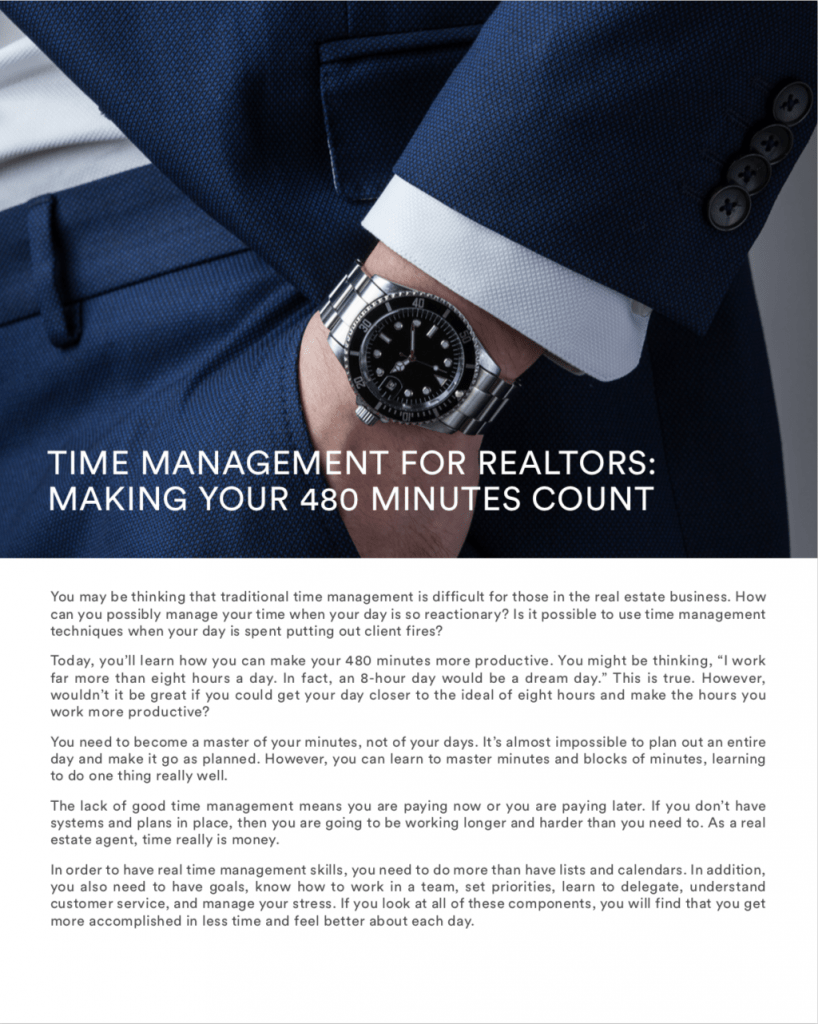 Guide
Real Estate Team Building 101
Many real estate gurus suggest that real estate teams are the future of real estate. Why? Because once you hit a certain level of achievement, your ability to produce more is capped. You can only do so much alone. Download our complete guide below.
Managing Multiple Offers
Whenever the real estate situation is set up so that there are more Buyers than houses, bidding wars ensue. For Realtors inexperienced with the multiple offer process, this can be problematic. Download our complete guide below.
Time Management
You may be thinking that traditional time management is difficult for those in the real estate business. How can you possibly manage your time when your day is so reactionary? Is it possible to use time management techniques when your day is spent putting out client fires? Today, you'll learn how you can make your 480 minutes more productive. You might be thinking…Download our complete guide below.
Join our Team
Ready to take your business to the next level? Schedule a time to meet with SAGE to see how we can help.